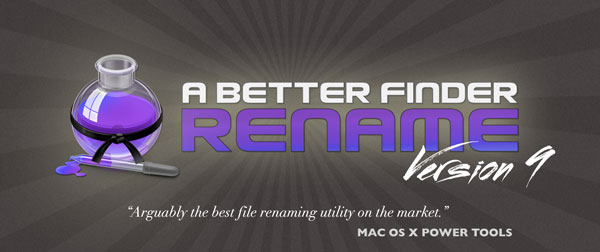 Introducing A Better Finder Rename 9 for Mac
We are thrilled to announce the release of A Better Finder Rename 9. We are excited about this new release and hope that you will enjoy the new version.
Refined Single Window User Interface
As befits a major new release, we have updated and refined the single window user interface introduced in version 8. We are rather pleased with the update and hope you will like as much as we do.
Manual Ordering
This has long been the Number 1 request for A Better Finder Rename and we have finally found a truly intuitive way to implement it.
You can now re-arrange the order of the files in the preview list simply through drag and drop. The sequence numbers, roman numerals or alphabetical sequences will automatically change to take into account the new ordering.
Tag-Based Renaming
Over the years, we kept getting requests for adding this or that type of meta-data. We wanted to find a really great way to integrate all kinds of file meta-data into the product without sacrificing the simplicity and elegance of the interface. The new tag-based renaming feature adds over one hundred tags allowing you to exploit camera, lens, image, color, music & date meta-data in your naming schemes.
Version 9 is but a new beginning
Customers who have been with us since A Better Finder Rename's humble beginnings in 1996 will know that every new release is only the beginning of a new cycle of iterative refinements. Over the past 16 years, few months have gone by without a point update to A Better Finder Rename and this will of course continue unabated with version 9. We have come a long way in the three and half years between version 8.0 and version 8.95 and we intend to continue developing A Better Finder Rename aggressively.
Free & Discounted Upgrades
A Better Finder Rename 9 is free for all customers who have bought the product after the 1st of January 2011 or who own a forever license.
Upgrades to the version 9 are available at the discounted price of $9.95 (Single User License) from our web store. You can also take the opportunity to upgrade to a family/small business license covering up to 5 individuals or a business license covering up to 100 users.
Better Rename 9 & the Mac App Store
Better Rename 9 is available on the Mac App Store for $19.95 and some of you may prefer using this opportunity to "crossgrade" to the Mac App Store version.
At present Better Rename 9.0 maintains feature parity with A Better Finder Rename 9 and we would like to keep it that way. Note however that on the Mac App Store, everybody plays by Apple's rules and those rules may at any moment force us to remove features, some of which you may find crucial.