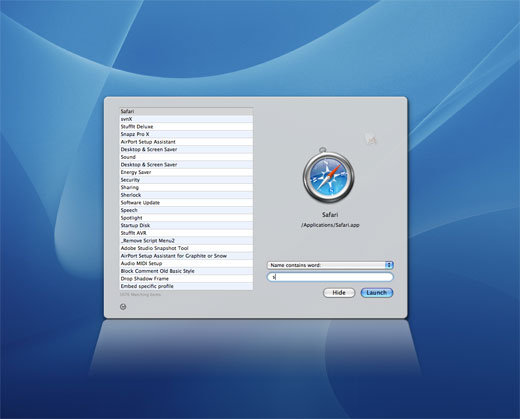 It is not every day that a software developer removes features to make a better product, surely "more = better". Yet, that is exactly what I have done with A Better Finder Launcher 2. Sometimes, I think, "less = better".
Unlike all my other Mac software, my little launcher utility was written entirely for myself and it was never intended as a commercial product. It was born out of a desire to have a simple and clean little utility that would launch my frequently used programs and documents with just a few keystrokes.
Sure there were lots of great launchers out there already. Things such as LaunchBar (the blue print for Apple's "revolutionary" SpotLight) and Quicksilver, but both those applications did such a lot more than what I wanted.
I didn't want a program that manages my bookmarks, does a full-index search of my PDF files, is also a pasteboard and a coffee maker. Don't get me wrong. They are great apps, they may be just what you are looking for, but they aren't for me..
After tinkering around with my fun little utility for a while, I decided to share my little launcher with the growing community of A Better Finder users and it was released on an (unsuspecting) public as "A Better Finder Launcher". It became a de-facto free addition to the A Better Finder Series package deal and has gone through ten point releases in its short life.
Version 2 brings the utility in line with A Better Finder Rename 7 and A Better Finder Attributes 4 in making the program both more of a stand-alone application and an easy drag & drop installation.
The adaptive ranking algorithm, however, is hands down my favorite new feature. It learns what your favorite applications and documents are and ranks them higher than less-frequently used items. This algorithm uses a combination of heuristics (e.g. "applications are more important than documents"), recency (e.g. "this program was last launched 5 minutes ago and is thus a better choice than that other program that was launched 3 weeks ago) and frequency (e.g. "Safari was launcher 3000 times, Firefox was only launcher 3 times. I think I'll put my money on Safari") to make guesses about which item is the best match. The greatest thing about it is that it works uncannily well!
I have enjoyed using version 2 for the past 2 months. I hope you'll like it as much as me 🙂