Monitoring your Activity Level
Rest breaks are most effective when they are taken at regular intervals depending on how much you actually work.
This is why ergonomix monitors your actual work on the computer and triggers breaks according to you actual activity level.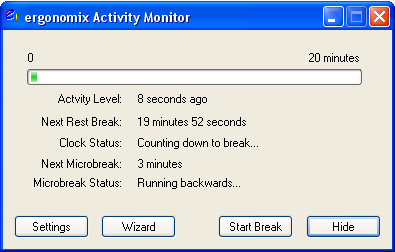 ergonomix automatically detects when you take unprompted breaks and adapts its break schedule accordingly.
Preparing you for your Rest Break
Nobody likes to be interrupted in the middle of working. Unfortunately it is during those periods of long, concentrated work that we do the most damage to our body.
ergonomix helps you by gently reminding you to take that rest break.
When you are prompted to take a break, you have the option to delay for a few minutes.
If you know that you cannot trust yourself to take the break, you can ask ergonomix to enforce the break for you.
Making the Best of your Rest Break
The best way of giving your body an opportunity to recover from the static posture it is forced into all day, is to perform a few easy stretches.
ergonomix provides a whole series of easy-to-follow and highly effective stretching exercises that you can perform right at your desk (or anywhere else you want to).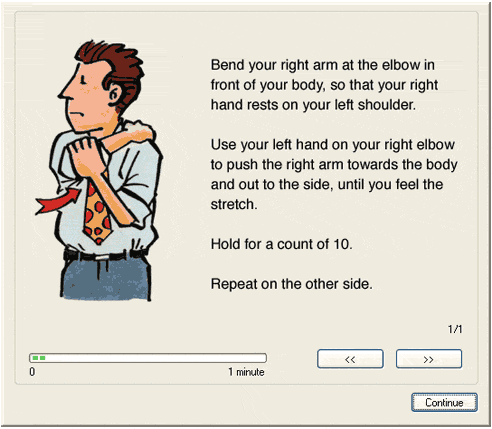 Once you have stretched a bit you should go and move around for a moment.
Microbreaks
Our hands, wrists and fingers are particularly sensitive to repetitive strain injuries when we continually use input devices at high intensity.
ergonomix is designed to recognize these high risk situations and remind us to take short, so called "micropauses". These are short 2-30 second breaks.
Taking microbreaks has been shown to be highly effective in prevent RSI.
Learning to Help Yourself
ergonomix contains an extensive set of everyday ergonomic tips, designed to allow you to spot problems and find solutions yourself.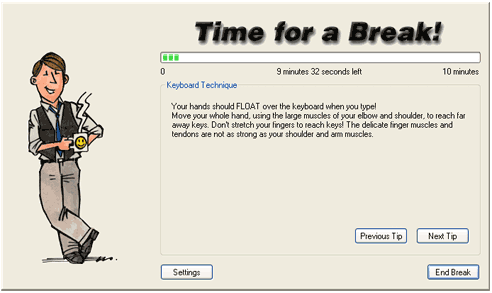 These tips include advice on:
working posture
typing technique
mouse technique
input devices
seating
desks
work practices
general ergonomic facts
etc.
Everybody is Different
It is up to you to discover the most effective way of combining healthy work practices with your own working life.
ergonomix helps you to achieve this by providing an impressive number of customization options.
When you first launch the tool, the Setup Assistant helps you to choose the right settings according to your current health status, your personal preferences, your work environment and your personal goals.
After the initial setup you can use the Settings Dialog to customize the tool ever closer
Support for Behavior Modification
It can sometimes be difficult to adapt to a new break schedule.
That's why ergonomix offers the possibility to slowly change its break schedule over time
You can, for instance, go from a 5 minute break every 2 hours to a 10 minute break every hour over a period of 60 days with the adaptation mode feature.
---
This link provides background information about preventing and recovering from RSI.
---
Find out how ergonomix can help you prevent Repetitive Strain Injury.
---
If you are already injured read the disclaimer below carefully.
Then have a look at our recovery page that details how ergonomix can help you recover from RSI.
---
If you want to find out more about RSI or stretching, check out our list of recommended reading.
---
Better File Rename for Windows
Check out the best selling batch renaming tool for Windows.
---

MacBreakZ for Macintosh
ergonomix also exists for Mac OS X/9.
---
Disclaimer

The techniques, ideas, and suggestions in this product are not intended as a substitute for proper medical advice! Consult your physician or health care professional before performing any new exercise or exercise technique, particularly if you are pregnant or nursing, or if you are elderly, or if you have any chronic or recurring conditions. Any application of the techniques, ideas, and suggestions in this document is at the reader's sole discretion and risk.

The author and publisher of this product and their employers make no warranty of any kind in regard to the content of this product, including, but not limited to, any implied warranties of merchantability, or fitness for any particular purpose. The author and publisher of this document and their employers are not liable or responsible to any person or entity for any errors contained in this product, or for any special, incidental, or consequential damage caused or alleged to be caused directly or indirectly by the information contained in this document.