Quick Start Guide
A Better Finder Launcher 2 provides instant access to all your applications, documents and folders.
If you have not already done so, download and install A Better Finder Launcher 2.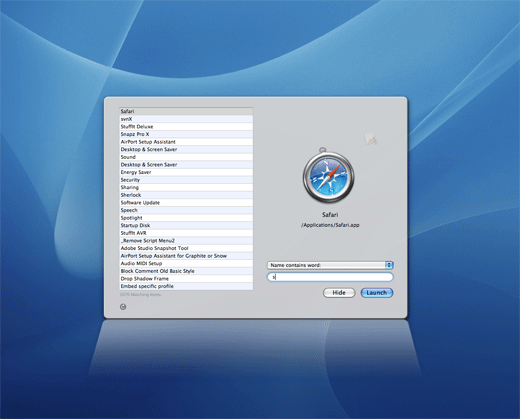 Once installed, pressing the F1 function key will bring up the dialog box above.
Start typing the name of the application, file or folder that you wish to open.
Hitting the return key or clicking on the Launch button will open the application, file or folder.
You may also use the up arrow and down arrow keys to move up and down the result list.
Unlike Mac OS X 10.4's SpotLight feature, A Better Finder Launcher only indexes the folders and file types that you tell it to index and it never looks inside your documents. It is not a general purpose search engine for your hard disk.
A Better Finder Launcher concentrates on providing instant access to the files and folders that you want to access in that manner.
A Better Finder Launcher keeps its own index up to date and will never start a lengthy search process in order to find a matching file.
Its adaptive query interface learns from your usage patterns and ranks the query results so that your favorite applications, files and folders appear first.
Say you often use A Better Finder Launcher to open the Safari browser. As soon as you type "s" into the query box the Safari icon will appear. If you don't use Safari a lot, but are a keen Sherlock user, Sherlock will appear on the first line.
In order to get the best out of A Better Finder Launcher, you will need to customize which folders are indexed and what file types should be included.
Freeware for Mac OS X 10.3/4
Not fully Mac OS X 10.5 Leopard compatible!
Not Mac OS X 10.6 Snow Leopard compatible!
---
2nd July 2007
Version 2.2 is now freeware, can be run as a normal application or hot-key only tool, is now more responsive and fixes all known bugs.
---
The manual covers installation, use and configuration.
---
Check out the answers to these frequently asked questions.