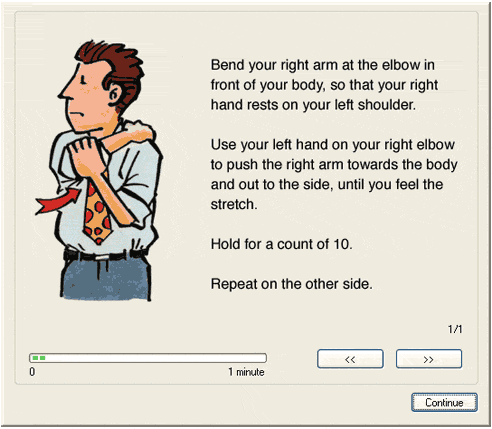 We all spend far too much time in front of our computers.
Few people fully realize how strenuous computer work is for our body and how large its impact on our physical and mental well-being is.
ergonomix is a personal ergonomic assistant which monitors our keyboard and mouse activity and helps us structure our computer use in a healthy and constructive manner, thus preventing computer-related injuries from developing.
The main applications for ergonomix are:
to prevent repetitive strain injuries (RSI) and promote healthy and pain-free computing
to aid the recovery from repetitive strain injuries
ergonomix achieves this by helping us re-structure our computer usage:
it monitors user activity and suggests appropriate times for recovery and micro-breaks
it provides a range of stretching exercises designed to relieve muscular tension and improve static posture
it provides ergonomic information on how to use our computer in a healthy manner
If you suffer from any of the symptoms below you should modify your work habits immediately:
upper or lower back pain
neck and shoulder pain
pain, loss of sensation or weakening of forearms, wrists, hands and fingers
tired eyes, focusing difficulties
The vast majority of people working for long periods every day on a computer will be familiar with some of these symptoms.
Over half of all people who extensively use computers at work suffer from these symptoms and all computer workers are at risk.
---
This link provides background information about preventing and recovering from RSI.
---
Find out how ergonomix can help you prevent Repetitive Strain Injury.
---
If you are already injured read the disclaimer below carefully.
Then have a look at our recovery page that details how ergonomix can help you recover from RSI.
---
If you want to find out more about RSI or stretching, check out our list of recommended reading.
---
Better File Rename for Windows
Check out the best selling batch renaming tool for Windows.
---

MacBreakZ for Macintosh
ergonomix also exists for Mac OS X/9.
---
Disclaimer

The techniques, ideas, and suggestions in this product are not intended as a substitute for proper medical advice! Consult your physician or health care professional before performing any new exercise or exercise technique, particularly if you are pregnant or nursing, or if you are elderly, or if you have any chronic or recurring conditions. Any application of the techniques, ideas, and suggestions in this document is at the reader's sole discretion and risk.

The author and publisher of this product and their employers make no warranty of any kind in regard to the content of this product, including, but not limited to, any implied warranties of merchantability, or fitness for any particular purpose. The author and publisher of this document and their employers are not liable or responsible to any person or entity for any errors contained in this product, or for any special, incidental, or consequential damage caused or alleged to be caused directly or indirectly by the information contained in this document.