Better File Select is a shell extension for the Windows Explorer, which allows users to quickly select multiple files based on a range of criteria.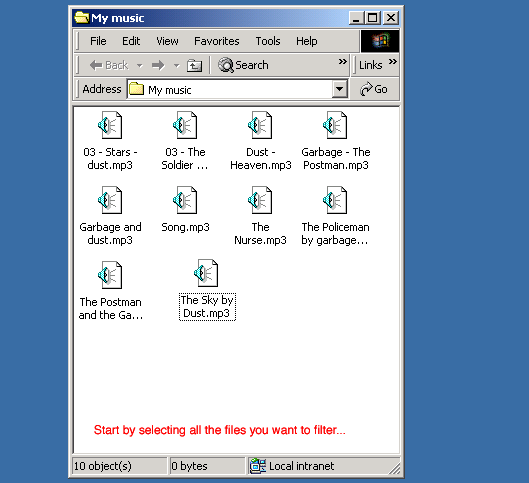 The simplest selection method is through partial file name matches, i.e. "select all files which contain .gif".
A more powerful method is to use wildcards known to many users through UNIX and DOS. Select all files which match 'image*.gif'" will match all files which start with "image" and end in ".gif".
The most powerful method available is to use regular expression pattern matching which is available on powerful Unix commands.
If all this sounds a bit complicated to you, don't worry. Better File Select features a simple and intuitive user interface. Simply download it and give it a try. You soon won't want to live without it!
Better File Select is the ideal companion for "Better File Rename" which allows users to rename multiple files automatically.
In the same tool series, "Better File Attributes" allows creation and modification dates to be changed easily.
---
21st July 2020
Version 2.23 features improved support for dates before 1970.
---
Better File Rename for Windows
The ideal companion for Better File Select, Better File Rename is a Windows shell extension that renames multiple files.
---
Better File Attributes for Windows
This product allows file creation and modification dates to be changed.
---

Macintosh Version
A Better Finder Select for Mac OS X/9 offers similar functionality on the Macintosh.
---
Questions? Suggestions?
Feel like talking to a real person now?
Just mail us at windows@publicspace.net
We are always happy to hear from you.
---
Get this or any other tool on this site for free by linking from your website or blog!