Adaptation Period
Healthy computing depends on healthy work habits, but getting from "here to there" isn't always easy.
This is why MacBreakZ offers an adaptation period feature that allows you to gradually adjust your work habits starting at the "as is" state of affairs and finishing at the target level.
This feature works by automatically adjusting your break interval and break duration settings over a given period of time. You will start with few and short break and gradually the breaks will become longer and more frequent.
There are two ways of configuring an adaptation period.
The simplest (which you may already have chosen) is to use the setup assistant, which will do this for you.
Alternatively, or in order to fine-tune your settings, you can also bring up the "Adaptation Mode" section of the Preferences.. dialog: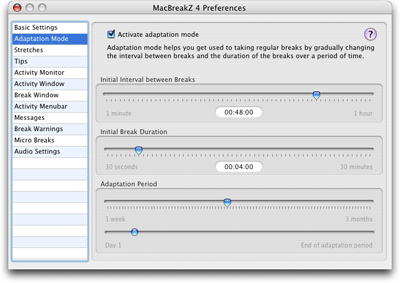 The checkbox at the top allows you to activate and de-activate the feature.
The two top sliders allow you to adapt the initial break interval and duration settings.
The target settings are those in the "Basic Settings" section of the preferences dialog.
The bottom section allows you to determine the length of the adaptation period and which day of this period you are currently on.
Should the breaks become too frequent for you, you may wish to increase the adaptation period or to choose an earlier day.
Each work day that you spend in front of the computer will automatically increment the day count.